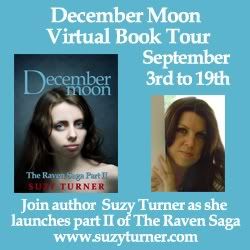 As part of the blog tour for her new release, December Moon, author Suzy Turner joins Michelle's Book Blog with a guest post about how a childhood fascination inspired December Moon.
Welcome Suzy. :)
As I mentioned yesterday, witchcraft has always fascinated me. I explained that a number of my all time favourite films have been about witches. But it's not just the movies that have inspired me. When I was much younger, I was a little bit of a goth. I could often be found wearing black clothes, dark nail polish and, according to one friend, I even had a bit of a penchant for black lipstick (but I don't remember taking it that far!) and my long dark hair often hung down by the side of my face.
Before I'd actually met my husband (when we went to the same school), he and his friends apparently even had a nickname for me: the witch.
Even now, occasionally I'll wear black clothes and dark eye make-up and people will comment on my very slightly goth appearance. Its something that will probably always be with me... although I can't imagine being an old lady goth... but you never know!
I should mention here that it was always just about the way I looked, I never really took the whole goth thing any further. The same goes for the witchcraft. Even though I often bought books about the subject (even spell books!), I never tried any of them. I was just intrigued by it all.
A few years ago I was fortunate enough to visit Glastonbury in England, a place renowned for its links to witchcraft and to Avalon. On every corner I found gorgeous little shops selling all manner of items associated with Wicca. I could so easily have spent a fortune on clothes, trinkets, cauldrons, dolls, jewellery, etc.
It was like an Aladdin's cave to me!
My obsession with all things surrounding witchcraft finally led me to base the sequel to Raven on a witch, December Moon, a young girl who grew up without any knowledge of her magical heredity... until her 15th birthday when something strange happens in the school gymnasium...
The Raven Saga:
Part One: Raven
Part Two: December Moon
Suzy Turner
Suzy Turner Blog
Suzy Turner on Amazon
Suzy Turner on FaceBook
Suzy Turner on Twitter
Suzy has offered one lucky commenter an E-Book of both Raven and December Moon.
To enter, just leave a comment with a valid email addy so I can contact you when you win. Because these are e-books, giveaway is open to all followers of this blog.
Using Random dot Org, winner will be chosen and announced 10-17-11.
Good Luck!